BoardroomPR Wins 3 Industry Awards for the 4th Consecutive Year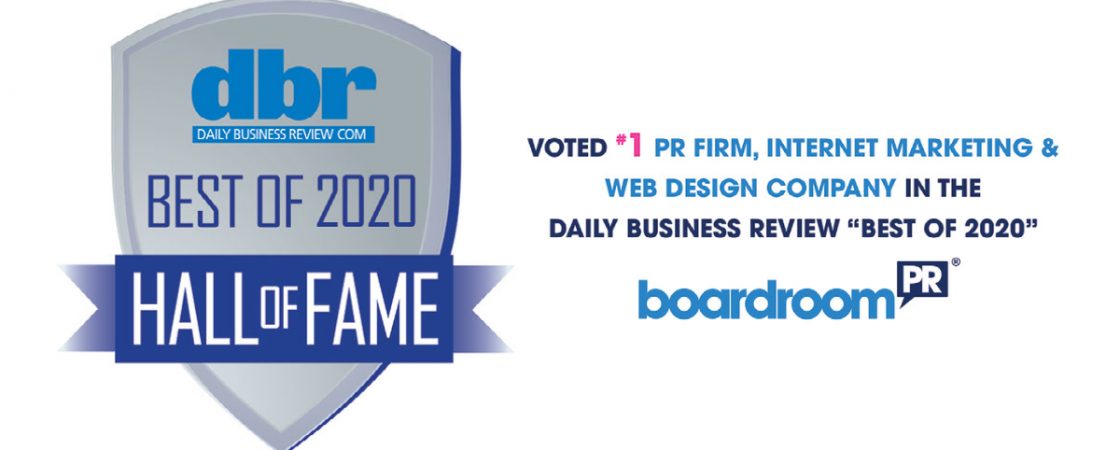 We are thrilled to share that Daily Business Review and its readers have chosen BoardroomPR as #1 in not one, not two, but THREE categories for the "Best Of 2020" awards: Best PR Firm, Best Internet Marketing, and Best Web Design Company. This achievement marks the fourth consecutive year BoardroomPR has been selected for these award categories. From securing national press to producing topnotch social media campaigns, our award-winning approach to PR, internet marketing and web design generates results for our clients; it's simply unmatched.   
"We are so proud and grateful to be voted the best this year in three different marketing categories," says Julie Talenfeld, President and CEO of BoardroomPR. "Our team always goes the extra mile for our clients, so to have a recognition like this for the fourth consecutive year means the world to us."    
BoardroomPR was also recognized as a part of the DBR "Best Of 2020" Hall of Fame for placing in the top three in their categories for the last few years.
The "Best Of" awards was developed to assist lawyers in identifying the finest legal products and service providers available in their region. Every year, the readers of the Daily Business Review vote in the "Best Of" rankings for their favorite companies and providers.
For nearly three decades, BoardroomPR's talented team of publicists, social media specialists, and web marketing pros have guided Florida's legal corporations, not-for-profits, and small businesses and start-up entrepreneurs to help them find their way into the local, regional, and national spotlight.