Orlando Public Relations Firm.
ORLANDO PUBLIC RELATIONS AGENCY AND BUSINESS MARKETING FIRM
Orlando is the fourth-largest city in Florida, with more than 260,000. It's part of the Orlando-Kissimmee-Sanford metropolitan area that includes Lake, Orange, Osceola and Seminole communities. The metro Orlando area population was 2.3 million in 2015.
Orlando is a business center, with headquarters and regional offices of companies such as Darden Restaurants, Deloitte Consulting, Electronic Arts, Lockheed Martin, Northrop Grumman, Tupper Brands and Verizon Communications.
The metro area is a global destination for over 60 million people annually to attractions such as Disney World and Universal Studios. The Magic Kingdom ranked first in the world with 19.3 million visitors in 2014, according to Themed Entertainment Association and AECOM.
Affiliates Epcot ranked sixth, Disney's Animal Kingdom seventh and Disney's Hollywood Studios eighth. They were followed by Universal Studios at 11th with 8.3 million visitors in the same year and Islands of Adventure next at 8.1 million. Seaworld finished 22nd on the list.
Like many other Florida cities, Orlando is rooted in the Seminole Wars of the 1800s. Small settlement north of a fort became Orlando in 1857. The city became the center of citrus industry during the 19th century and shifted to a tourist destination in the 20th Century, most notably when the Magic Kingdom opened in 1971.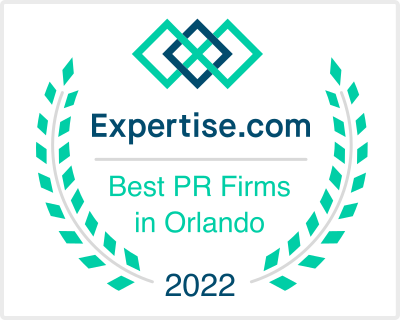 Other PR Locations Served:
Miami Public Relations Services
Fort Lauderdale Public Relations Services
Naples Public Relations Services
Tampa Public Relations Services
While theme parks overshadow other economic sectors, Orlando is a hub for high-tech. Growth originated with companies serving the U.S. military, later by spinoffs from those military-industrial giants and today in part by serving theme parks. The metro area employs 53,000 people in digital media, aviation, hardware and software design, and other areas. The Central Florida Research Park is the seventh largest in the nation, with more than 120 companies.
Businesses hire employ graduates of the University of Central Florida, which has the highest enrollment of any public university in the nation; Full Sail University and Rollins College, private colleges in Winter Park; Valencia College; and Seminole State College of Florida.
BoardroomPR provides is proud to provide high-quality public relations and marketing services to businesses, professionals and non-profit organizations.
ORLANDO DAILY NEWSPAPER CONTACT INFORMATION
Orlando Sentinel
633 N. Orange Ave.
Orlando, FL 32801
407-420-5000
Website: http://orlandosentinel.com
ORLANDO WEEKLY NEWSPAPER CONTACT INFORMATION
Orlando Business Journal
255 South Orange Ave., Suite 700
Orlando, FL 32801
Voice: 407-649-8470
Website: http://www.bizjournals.com/orlando/
ORLANDO TV NEWS STATION CONTACT INFORMATION
WFTV
490 E South St.
Orlando, FL 32801
407-841-9000
Website: https://www.wftv.com
WESH
1021 Wymore Road
Winter Park, FL 32789
407-645-2222
Website: https://www.wesh.com
NEWS 13
20 N. Orange Ave.
Orlando, FL 32801
407-513-1300
Website: https://www.cfnews13.com
MAJOR ORLANDO AND CENTRAL FLORIDA CHAMBERS OF COMMERCE
Orlando Regional Chamber of Commerce
75 South Ivanhoe Blvd.
Orlando, FL 32802-1234
407-425-1234
Website: http://www.orlando.org
East Orlando Chamber of Commerce
12301 Lake Underhill Road, Suite 245
Orlando, FL 32828
407-277-5951
Website: http://www.eocc.org
Hispanic Chamber of Commerce of Metro Orlando
3201 E. Colonial Drive, Suite A-20
Orlando, FL 32803
407-428-5870
Website: http://www.hccmo.org
African America Chamber of Commerce of Central Florida
3201 E. Colonial Drive, Suite A-20
Orlando, FL 32803
407-420-4870
Website: http://www.hccmo.org
MAJOR ORLANDO AND CENTRAL FLORIDA INDUSTRY AND PROFESSIONAL ASSOCIATIONS
NAIOP Central Florida Chapter
P.O. Box 560667
Orlando, FL 32856
407-227-7461
Website: http://www.naiopcfl.org
Florida High Tech Corridor
1055 AAA Drive, Suite 140
Heathrow, FL 32746
(407) 708-4630
CREW Orlando
37 N. Orange Ave., Suite 500
Orlando, FL 32801
Phone: 407-926-4120
Website: http://creworlando.org
Orange County Bar Association
880 N. Orange Ave.
Orlando, FL 32801
407-422-4551
Website: http://www.orangecountybar.org/
Central Florida Association for Women Lawyers
P.O. Box 3351
Orlando, FL 32802-3351
Website: http://cfawl.org
Hispanic Bar Association of Central Florida
P.O. Box 2627
Orlando, FL 32802-2627
Website: http://hbacf.com
Paul C. Perkins Bar Association
P.O. Box 1589
Orlando, FL 32802
Facebook page: https://www.facebook.com/PAULCPERKINS/
Central Florida Bankruptcy Law Association
P.O. Box 2295
Orlando, FL 32802
Website: http://cfbla.org
Central Florida Trial Lawyers Association
P.O. Box 4349
Orlando, FL 32802-4349
407-505-0466
Website: http://cftla.org
Central Florida Gay & Lesbian Law Association
Website: http://cfgalla.org