BoardroomPR Ranks #93 on O'Dwyer's Top 100 PR Firms 2020 List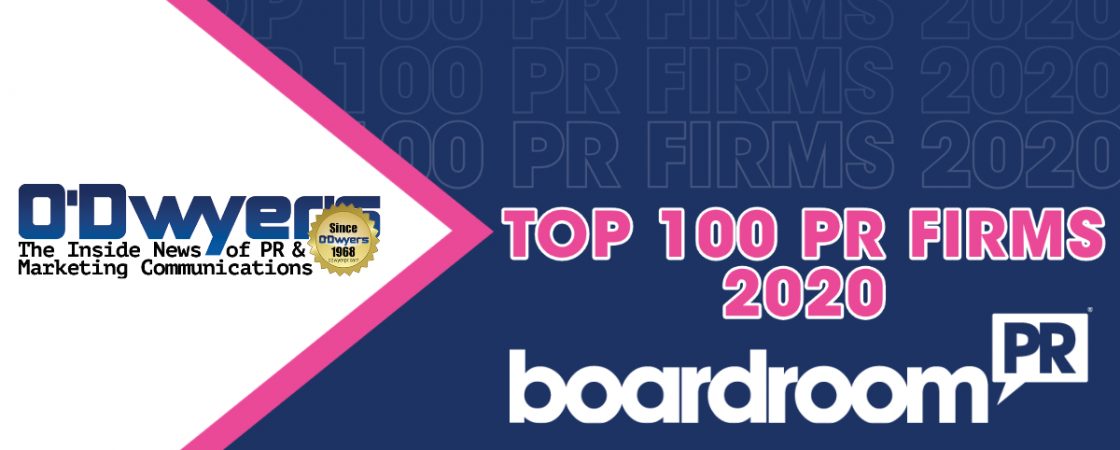 BoardroomPR, one of Florida's largest public relations and integrated marketing agencies, has been honored in O'Dwyer's list of Top 100 PR Firms 2020. Their rankings measure counseling and media contact services and have placed BoardroomPR at #93 on their list. For decades, BoardroomPR has been working hard for Florida's top entrepreneurs, law firms, corporations, and non-profits, handling all of their public relations needs.
Our team of PR pros are equipped to provide companies PR consultancy as well as handle crisis matters, work on web design, internet marketing, social media, and more. Our experts are standing by 24/7 to handle any situation that comes our way, working closely with our clients to get the job done efficiently. We have years of experience working with corporations, attorneys, real estate, lobbyists, not-for-profits, healthcare, land use, education, insurance, and banking clients.
Here at BoardroomPR, we have top-quality professionals that excel in public relations, marketing and media, with experience and knowledge that allows our team to successfully run our campaigns and projects while reaching unparalleled achievements.
"I am so incredibly proud of our agency and all of the effort our team puts in day after day to provide our clientele with results that exceed their expectations," said BoardroomPR President, Julie Talenfeld. "Being ranked on O'Dwyer's list of top PR firms is an honor. Recognitions such as this motivates us here at BoardroomPR to continue working hard and efficiently."

Give us a call today at 954-370-8999 to see how our team at BoardroomPR can help you. We can help you develop a plan for your business, or assist with any current crisis you may be facing now.
About BoardroomPR:
BoardroomPR is among the largest PR and integrated marketing agencies in Florida specializing in media relations, online marketing, branding, public affairs and crisis communications. The firm has offices in Ft. Lauderdale, Tampa, Orlando and Miami. The recipe for much of Boardroom's success has come from its experienced staff's opportunistic approach, energy and uncanny ability to convert a client's vision into a workable plan that gets them where they want to go. BoardroomPR crafts public relations campaigns that bridge new and traditional media to generate newspaper, magazine, trade journal, radio, television coverage and online media through its customized game plans designed to accomplish client objectives. Online services include website and blog development and marketing, social media management, Search Engine Marketing (SEM) and Search Engine Optimization (SEO). For more information, visit www.boardroompr.com.
BoardroomPR Florida Offices: