Will Florida Real Estate Have a Soft Landing? Industry Leaders Weigh In at ULI Summit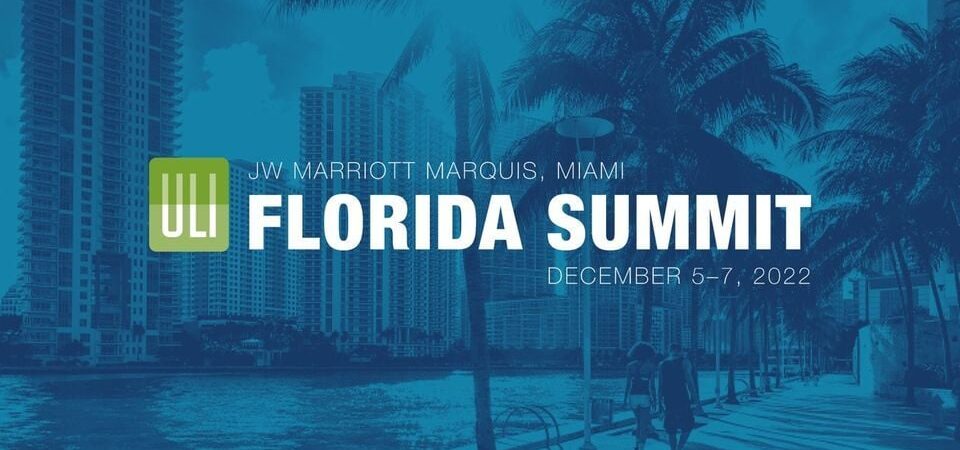 The Urban Land Institute's (ULI) Florida Summit is one of the real estate industry's most anticipated events each year, as hundreds of leading developers, investors, lenders, brokers, attorneys, and other industry professionals gather to network and exchange insights. Anticipation was especially high for the 2022 edition of the summit, which was held in downtown Miami and featured Related Companies Chairman Stephen Ross and other major players as speakers.
BoardroomPR's commercial and residential real estate experts are actively involved with ULI and attended the summit, alongside the firm's clients and industry contacts. The consensus from Ross and the rest of the summit's presenters and speakers: Florida – especially South Florida – will fare much better than the rest of the nation in a recession, but there will be a pronounced slowdown of investment and development activity over the next quarter or two.
The discussion between Ross and Swire Properties President Kieran Bowers primarily focused on the office market in Miami and West Palm Beach. Related and Swire are jointly developing the 1.6-million-square-foot One Brickell City Centre office project in the heart of the Miami Financial District. Ross shared a very positive trend that he's seeing first-hand: new-to-market prospective office tenants are seeking much larger spaces (at least 50,000 square feet) than in the past.
Other interesting takeaways from the summit include:
Lara Marrero, Gensler's London-based global retail practice leader, detailed how "competitive socializing" concepts (such as Topgolf) are taking over anchor spaces from traditional big-box retail tenants
Acclaimed real estate consultant John Burns predicted housing price declines in the near future, citing how Lennar and D.R. Horton combine to account for 19% of new homes sold in the U.S. Both builders can drop prices by 10% while maintaining profitability, so Burns expects the residential real estate industry to follow their lead
CBRE Director of Research and Analysis Darin Mellott is more optimistic than his economist peers on when real estate investors will have enough certainty to move forward with new deals. Mellott thinks clarity will arrive by the end of the first quarter of 2023, as opposed to the mid-2023 prediction others are making
At BoardroomPR, our skilled publicists utilize our storytelling abilities and media relationships to secure positive media coverage for our real estate clients. BoardroomPR is proud to be the public relations and integrated marketing partner of a diverse roster of distinguished real estate companies.
Eric Kalis
Vice President