BoardroomPR Presents to The Jim Moran Institute's Entrepreneurship Program about Leveraging Digital Marketing and Social Media to Boost Your Business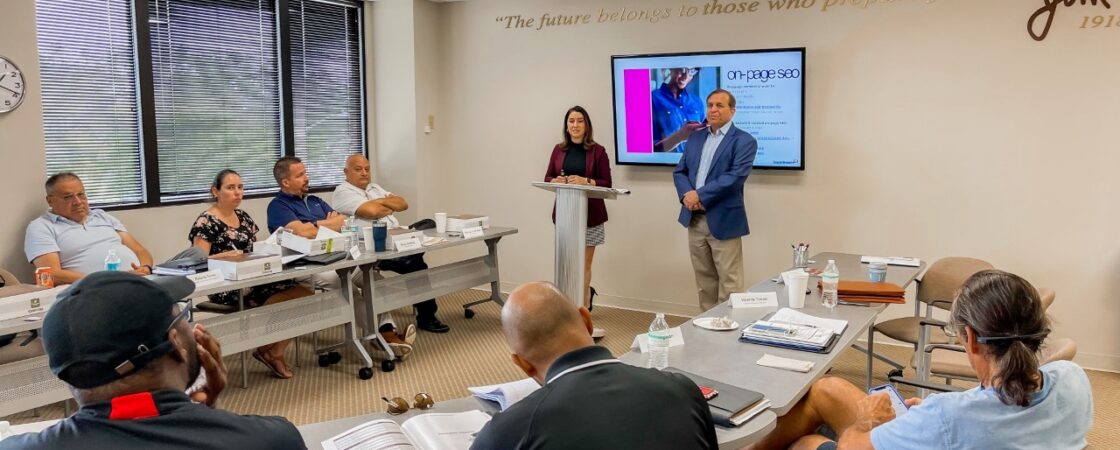 BoardroomPR senior account executive Mara Gordon and COO Don Silver recently presented for The Jim Moran Institute for Global Entrepreneurship's Small Business Executive Program participants. Gordon and Silver presented for their program session titled "Leveraging the Internet and Social Media" for its participants of local small business owners.  
The discussion started with explaining where to begin when implementing a digital marketing plan. The presentation continued with topics on blogging, SEO best practices, understanding web analytics and leveraging social media advertising. 
Part of Florida State University's College of Business, The Jim Moran Institute for Global Entrepreneurship offers CEOs, entrepreneurs, business owners and nonprofit leaders from South Florida, along with other areas throughout the state, a program that provides executive education, the opportunity to utilize local resources and the skills to take their business to the next level. Its programs are available at no-cost.  
Gordon has been a communications professional for over a decade and has studied digital marketing at the graduate level. She has worked with clients in a variety of industries including law, real estate, education, tech and entertainment, consulting and assisting them with digital marketing strategies, social media management, digital advertising and public relations. 
Silver brings 30-plus years of successful public relations and national marketing management experience as a corporate executive with well-known companies. He regularly assists many of the state's top entrepreneurs, corporations, nonprofits, schools and law firms with crisis planning, reputation management, public relations, marketing, community outreach and online and search engine marketing. 
If you're interested in discussing how your business can use a digital marketing and public relations strategy to elevate your company, please contact BoardroomPR today.